ABOUT US
Our Mission: Bring Ergonomic Efficiency to Strength Training, Equipment, Nutrition, and Lifestyle.
Welcome to TGrip - where we infuse ergonomic efficiency into strength training, nutrition, and lifestyle, aiming to make a big impact on the health and fitness community. We're not just another fitness brand; we're an innovator, designing equipment and developing protocols that we envision becoming as mainstream as traditional strength training and fitness.
Born from a real need in weight lifting and strength training, the original TGrip bar is our testament to safer and more efficient strength training. Our founder, Tim Fitzpatrick, experienced firsthand the shoulder pain that can come from years of using a straight barbell. He found relief in using dumbbells that allowed a more natural, neutral grip, thereby avoiding injury and reducing joint pain. But the hunt for a parallel grip bar came up empty, and this ignited the flame of invention.
The result? TGrip - the brand set to revolutionize the health and fitness industry with modern, ergonomic barbells and equipment. Reflecting on the first barbells that graced European gyms in the mid-1800s, we appreciate their lasting influence, but we also see the need for change.
We've set our sights on transforming conventional strength training with our safe, effective alternatives to the traditional straight barbell. Our dream doesn't stop at your local gym - we envision the TGrip bar becoming as standard and globally recognized as the traditional straight barbell.
What sets TGrip bars apart? It's all in the design. Our unique, Diamond Handle Design of the bar enhances grip comfort and ensures your workout is more efficient and safer than ever. This isn't just fitness; this is the future of strength training. Welcome to TGrip.
OUR VALUES
Drive: Passion, positivity, and enthusiasm are the main driving force  and heartbeat behind our brand's success. 
Innovation: The origin of our brand comes from innovation. Design,  development, and creativity will always be at the forefront. 
Unity: Building a solid team starts with recognizing an individual's talent.  Treating all team members with fairness and kindness. Internal company unity is a key factor for the sustainable growth of our company.  
Integrity: Our building block for growth and success—Honesty+Integrity=Success for our Brand, Company, and every team member.  Validating our integrity is regularly practiced. 
Balance: Balance in life and balance in training. Time and health are our most valuable assets. At TGrip, we create incentivized, tailored work/life balances for our team members and customers to optimize talents, abilities, and results. 
TGRIP TIM

Hi I'm "TGrip Tim" Fitzpatrick and I'm the original designer and patent holder of the TGrip bars.

Today, I wanted to take a moment to personally connect with you and share the story behind the creation of the TGrip Bar, a tool that has transformed my fitness journey and, I hope, will do the same for you.

Fitness has always been a significant part of my life, and I understand the challenges that many people face when trying to maintain a consistent workout routine. Over the years, I've realized that a lack of time, space, and resources can make it difficult for individuals to commit to their fitness goals. That's where the idea for the TGrip Bar was born.

When I first started developing the TGrip Bar, my primary aim was to create a versatile, efficient, and space-saving workout tool that would empower people to take control of their fitness journey, no matter their circumstances. I envisioned a piece of equipment that would not only help users achieve their goals but also inspire them to challenge themselves and explore new possibilities.

My goal is to provide not only a groundbreaking product but also valuable educational resources for a safer approach to exercise. I want to ensure that your body maintains its natural alignment and neutral state during specific exercises using the TGrip system.

Throughout the development process, I kept you - our future customers - at the heart of every decision. I wanted to create a product that would genuinely impact your lives in a positive way. The TGrip Bar is not just a workout tool; it's a testament to our belief in your potential and our commitment to supporting you every step of the way.

As we continue to grow and evolve, I want you to know that your feedback, success stories, and well-being are incredibly important to us. We're not just here to sell you a product; we're here to be your partner in your fitness journey. Your progress is our passion, and your achievements are our inspiration.

On behalf of the entire TGrip team, I want to express my deepest gratitude for your trust and support. We're excited to be a part of your fitness journey and look forward to celebrating your accomplishments together.

JEFF GOERGEN

I'm Jeff Goergen, a fitness enthusiast who's been immersed in the industry since my early high school days. This is not just my work, it's my passion, one I discovered almost by happenstance when I started lifting at 14. Since then, I've traveled a fascinating journey through Olympic weightlifting, powerlifting, and Strongman competitions. Along the way, I've been a strength coach, a personal trainer, and even coached my own teams of Strongman and powerlifting enthusiasts, traveling across the country to compete.

My journey into fitness equipment was equally accidental. One of my training partners introduced me to it, and just like that, I found another passion. Sometimes, life simply leads you down a path, and when it's right, it's fun, it's fulfilling, and it works. That's how it's been for me, with every step in this journey providing me with something more to learn, more to love about this industry.

Joining TGrip was another one of those fortuitous moments. I knew TGrip's founder, Tim, for quite a while before we started talking about his vision for TGrip. I was completely taken by the idea of a team working together to create a product that truly revolutionized strength training.

I'd had my own personal experience with the TGrip bar, too. After suffering from painful tendonitis due to using a straight bar, I switched to a TGrip bar in my garage during the COVID lockdown. My training didn't lessen, but the pain disappeared - a testament to the design and functionality of the product.

Living in Columbus, Ohio, I had the chance to mingle with legends like Louis Simmons and Mel Siff. This gave me an insight into the stress that traditional equipment can put on our bodies. I always knew that specialty bars were the future, and the TGrip bar fits that vision perfectly.

As a proud member of the TGrip team, I'm excited about bringing education and practical fitness solutions to the world. TGrip is here to make fitness simple, effective, and enjoyable. Let's embark on this journey to better health together!

NADIYA TIMPERMAN

I'm Nadiya Timperman, a dedicated dietitian based in Columbus, Ohio, with over 21 years of experience in private practice and corporate wellness. I have made it my life's mission to help individuals navigate their personal health and fitness goals. With our demanding schedules, living healthily can be a challenge, but I believe it can be simplified. Nowadays, even something as intuitive as eating can feel complicated. My nutrition philosophy aims to clarify the confusion, helping each individual to build their personalized roadmap to sustained success.

In addition to my private practice, I'm privileged to serve as a faculty member at a local university in Westerville, Ohio. There, I coordinate the nutrition minor, manage curriculum content, and teach nutrition and public health classes in both the Health and Sport Science and Nursing departments. I hold a Bachelor of Science in Dietetics from the University of Dayton, as well as two Master's degrees from the University of Tennessee, one in Nutrition Science and the other in Public Health.

In my free time, I love to hike, garden, cook and spend time with my family. Looking forward to being part of your health journey!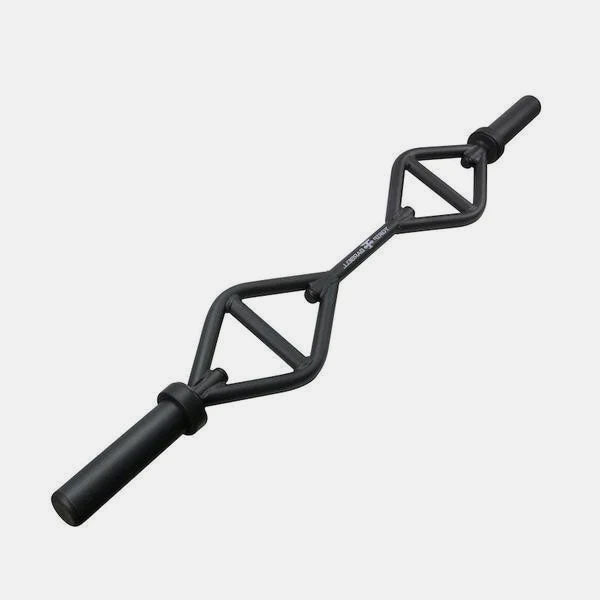 Original patented exercise equipment, such as parallel or neutral grip Tgrip bars, is our signature lineup of products recognized as alternative tools to the basic standard equipment in almost every gym equipped with free weights. Tgrip products are used in many areas of physical fitness and bring ergonomic efficiency to strength training. It is not limited to Athletic performance training, i.e., professional football, powerlifting, bodybuilding, strength and conditioning, Injury prevention, and post-rehabilitation. Our goal is to offer a brand of products along with resources of education for a safer way to exercise using our products, having the body in its natural alignment as in a neutral state through the range of motion while performing specific exercises. In short, we provide products that assist with longevity to users body's as they reach their full potential through their fitness journeys.