Regular price
$149.00 USD
Regular price
$179.00 USD
Sale price
$149.00 USD
Unit price
per
Sale
Sold out
EXERCISES
Suspension training is a proven method that improves muscle strength, stability, power, and functional performance with high activation of core muscles.
The TGrip Hang-On Suspension System is simple, portable, and can be used as a stand-alone training tool or in conjunction with the Original TGrip Bar or any other training tool or program. It is excellent for young people, older adults, athletes, fitness enthusiasts, and anyone interested in getting a great workout anytime, anywhere.
The Hang On Suspension anchor straps are perfect for setting up on your squat stand or power rack, outside on playground equipment, or rafters. Use the TGrip Anchors to turn any ceiling or wall in your house or apartment into your suspension training station.
This is your portable gym, light, quick to set up, and easily anchors to many locations. Train at home, at the park, or on a business trip or vacation.
Features & Specifications
No adjustment is necessary. Set up and start training

Straps Rated at 1000lbs

Carabiners Rates at 12KN (2697.71 lb)

Suspension System Made in the USA
Includes:
2 - 5' Suspension Straps

2 - 6' Suspension Straps

2 - TGrip Bar Strap Attachments

2 - Rack/Door Hinge Anchor Straps

4  - Carabiners

2 - Functional Handles

1 - TGrip Travel Bag

1 - 4 Week Nutrition Journal

1 - 4 Week Training Journal
Share
View full details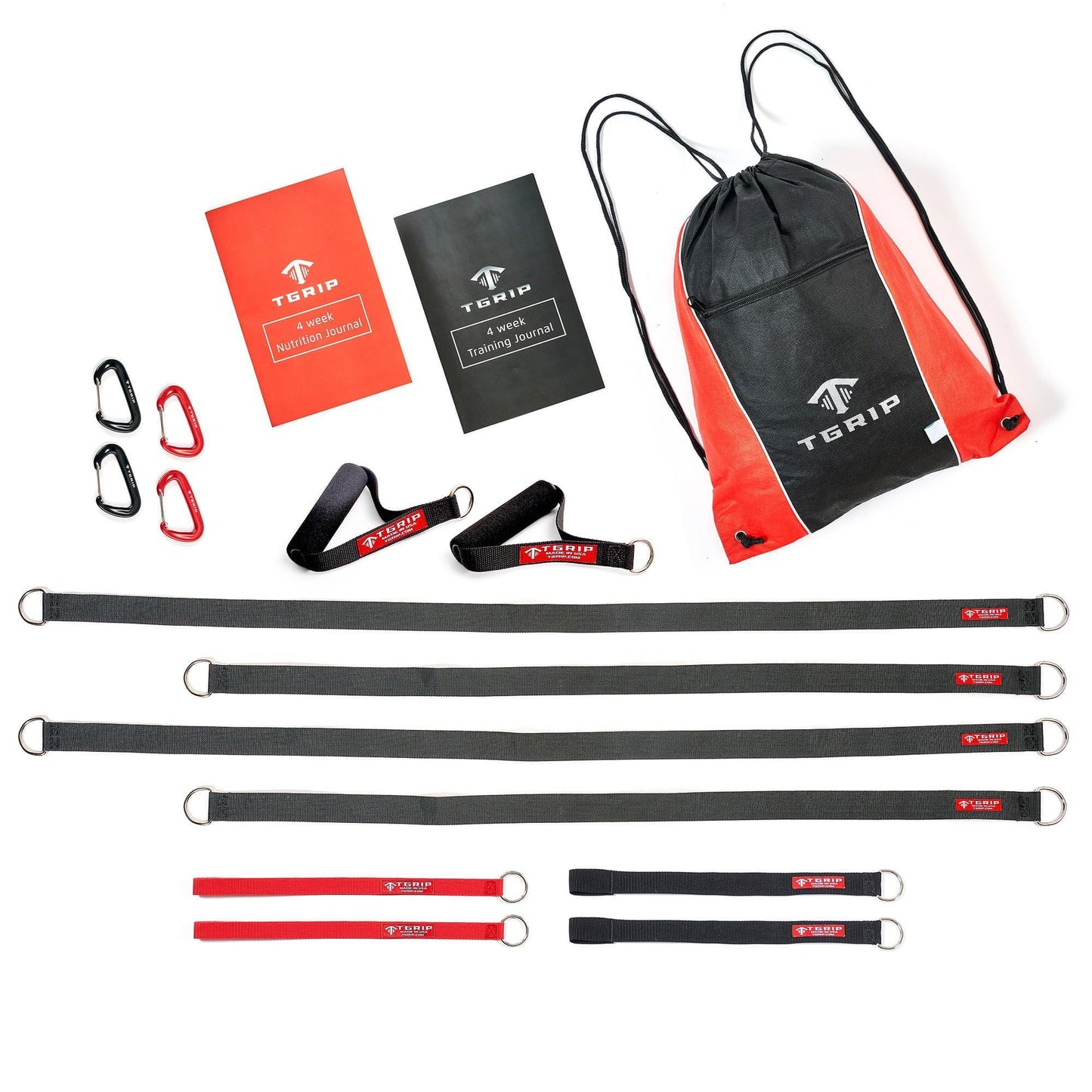 OUR PRODUCTS ARE PROUDLY MADE IN THE USA*

SHIPS FROM US WAREHOUSE WITHIN 2 BUSINESS DAYS

WE GUARANTEE YOU'LL LOVE OUR TGRIP PRODUCT
WHY CHOOSE TGRIP?
EASY TO USE ANYWHERE

Ditch the excuses! TGrip can be used anywhere. Take it to the park, keep it in your trunk or leave it in your home gym. Straps can attach to the wall, floor, ceiling or outdoor items like a tree, fence or playground.

1000s OF WORKOUT OPTIONS

The sky is the limit with TGrip workouts. With multiple ergonomic grip options, you will isolate muscle groups like never before. Every Tgrip order comes with a workout guide and access to the Ergonomic Lifestyle Protocol.

WORKS WITH PLATES, STRAPS & BANDS

Ditch the elbow, wrist and shoulder pain with TGRIP! Our patented bars are designed to help you lift more while maintaining proper form and ergonomics. See the results right away.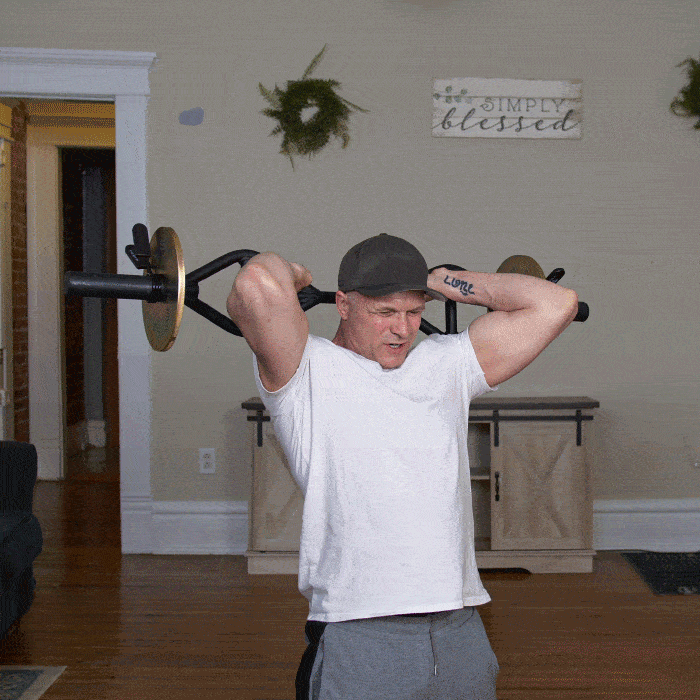 PLATE WORKOUTS
Originally developed and patented by "TGrip" Tim Fitzpatrick, The Original TGrip Bar is designed to keep your hands in neutral positions, reducing stress on your joints during exercise. This bar is designed as an effective training tool for beginners and advanced fitness professionals. Light enough to use for younger people and older adults and robust enough to hold the weight needed for bodybuilders and strength athletes.
GET IT NOW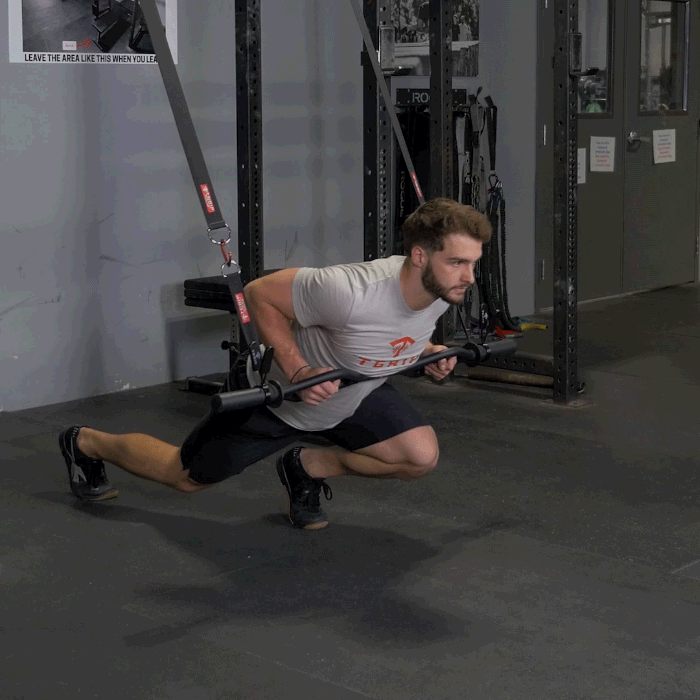 SUSPENSION WORKOUTS
Intensify Your upper and lower body workouts with multiple grip variations, train every muscle from every angel.
GET IT NOW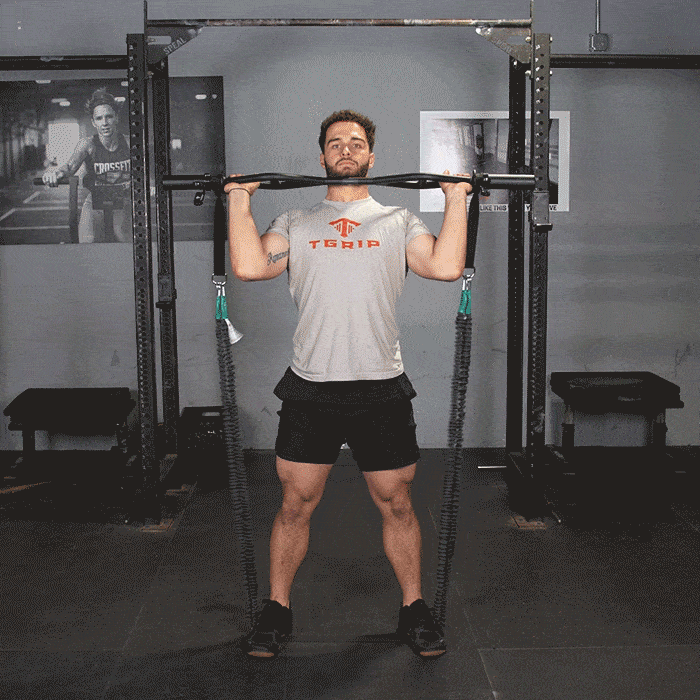 BAND WORKOUTS
The Original TGrip Bar provides multiple grip options. These options allow for any exercise training in any body part while reducing the stress on your wrists, elbows, and shoulders, significantly reducing the chance of tendonitis in the elbows and shoulders and injuries that come with the overuse of the standard straight bar.
GET IT NOW
Amazing experience with TGrip!
I train regularly with the TGrip bars. I have had bad tendonitis in my elbow and shoulder over the years. When I train exclusively with the TGrip bars, my tendonitis is gone. I recommend TGrip to everyone!
This is why I am involved with TGrip today. I believe in the ergonomic efficiency of the products.