OUR PRODUCTS ARE PROUDLY MADE IN THE USA*

ORDER BY JUNE 10TH FOR DELIVERY BY FATHERS DAY

WE GUARANTEE YOU'LL LOVE OUR TGRIP PRODUCTS
5 ERGONOMIC GRIPS MEANS YOU CAN LIFT MORE WITH LESS PAIN
Whether you're a body builder, personal trainer or home gym enthusiast, TGRIP will help you crush your strength training goals.
GET TGRIP NOW
WHY CHOOSE TGRIP?
EASY TO USE ANYWHERE

Ditch the excuses! TGrip can be used anywhere. Take it to the park, keep it in your trunk or leave it in your home gym. Straps can attach to the wall, floor, ceiling or outdoor items like a tree, fence or playground.

1000s OF WORKOUT OPTIONS

The sky is the limit with TGrip workouts. With multiple ergonomic grip options, you will isolate muscle groups like never before. Every Tgrip order comes with a workout guide and access to the Ergonomic Lifestyle Protocol.

WORKS WITH PLATES, STRAPS & BANDS

Ditch the elbow, wrist and shoulder pain with TGRIP! Our patented bars are designed to help you lift more while maintaining proper form and ergonomics. See the results right away.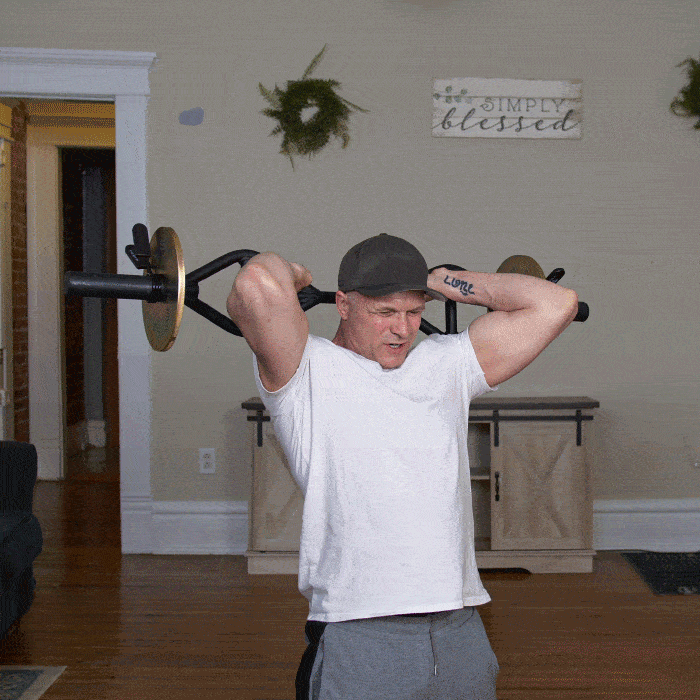 PLATE WORKOUTS
Originally developed and patented by "TGrip" Tim Fitzpatrick, The Original TGrip Bar is designed to keep your hands in neutral positions, reducing stress on your joints during exercise. This bar is designed as an effective training tool for beginners and advanced fitness professionals. Light enough to use for younger people and older adults and robust enough to hold the weight needed for bodybuilders and strength athletes.
GET IT NOW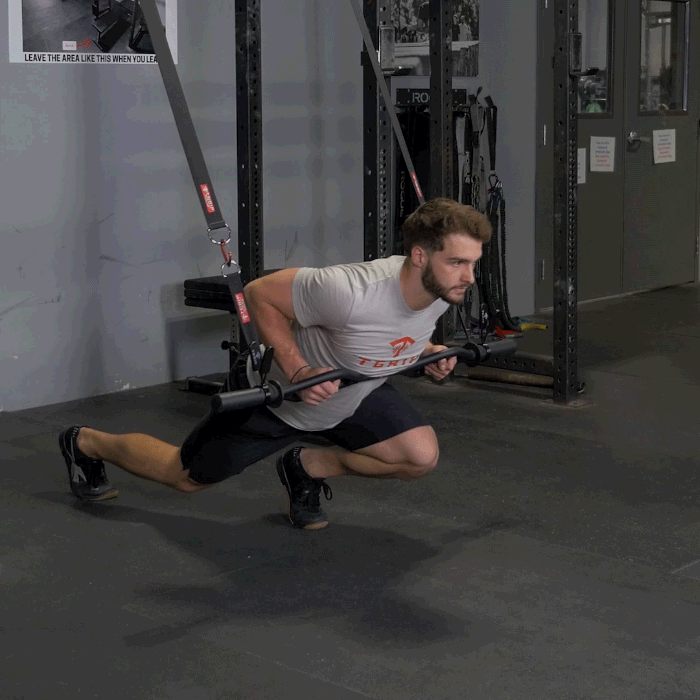 SUSPENSION WORKOUTS
Intensify Your upper and lower body workouts with multiple grip variations, train every muscle from every angel.
GET IT NOW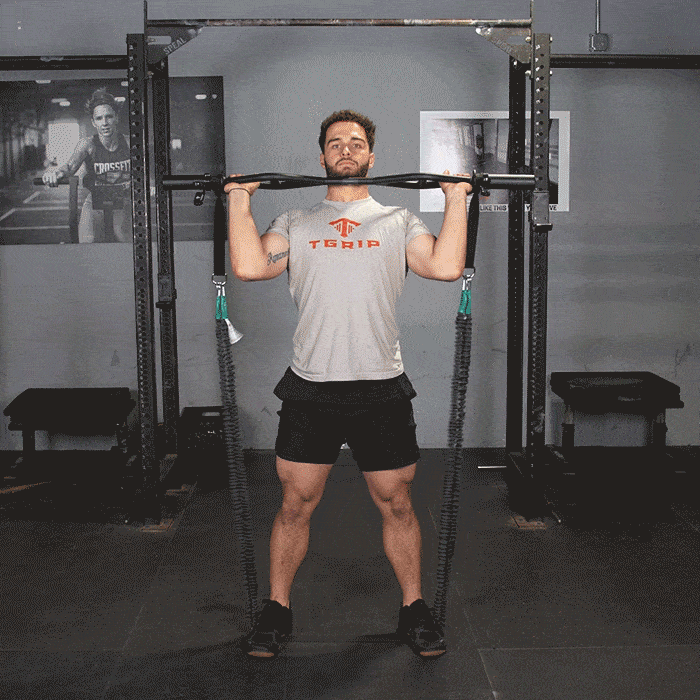 BAND WORKOUTS
The Original TGrip Bar provides multiple grip options. These options allow for any exercise training in any body part while reducing the stress on your wrists, elbows, and shoulders, significantly reducing the chance of tendonitis in the elbows and shoulders and injuries that come with the overuse of the standard straight bar.
GET IT NOW
SEE WHAT THE TGRIP COMMUNITY HAS TO SAY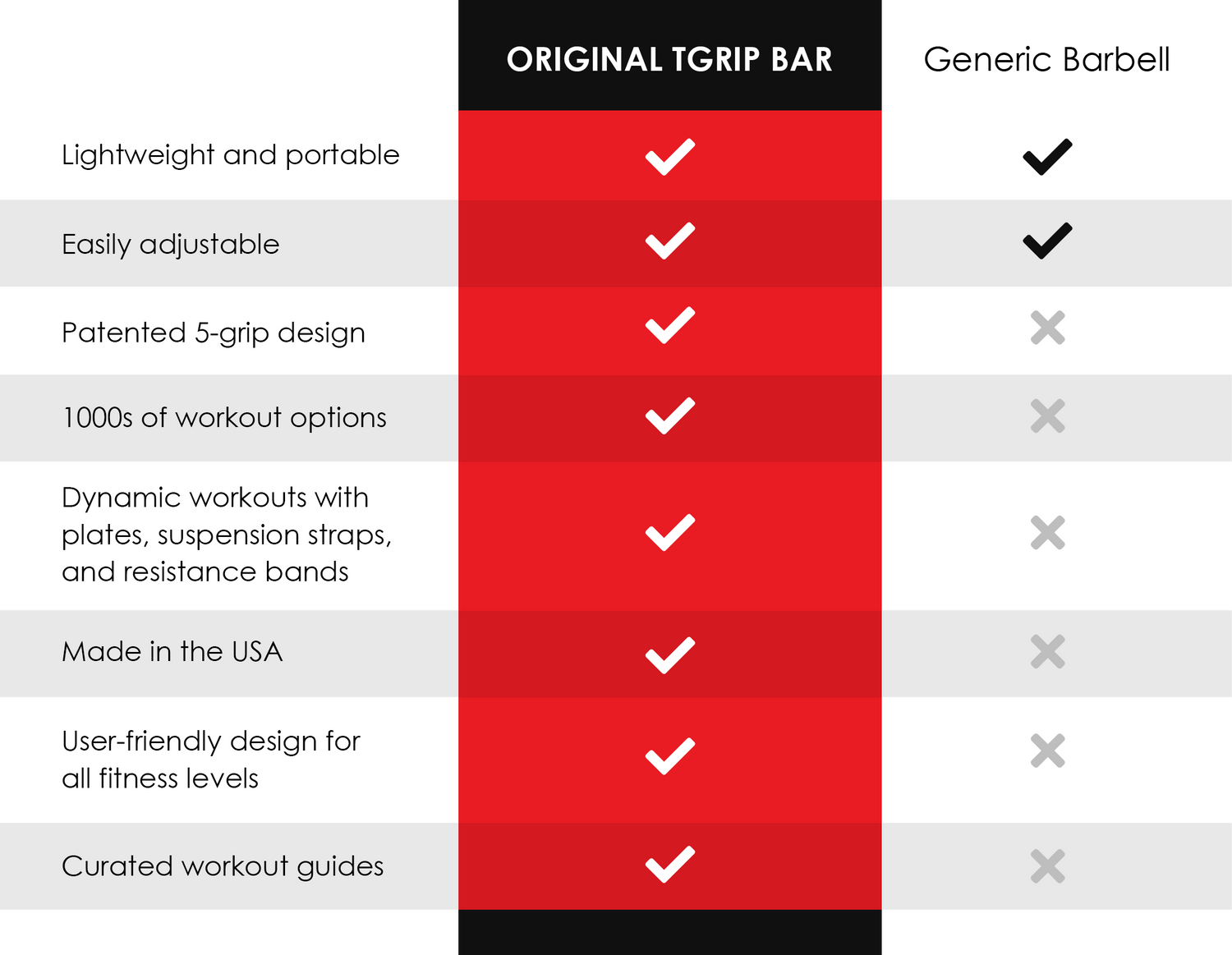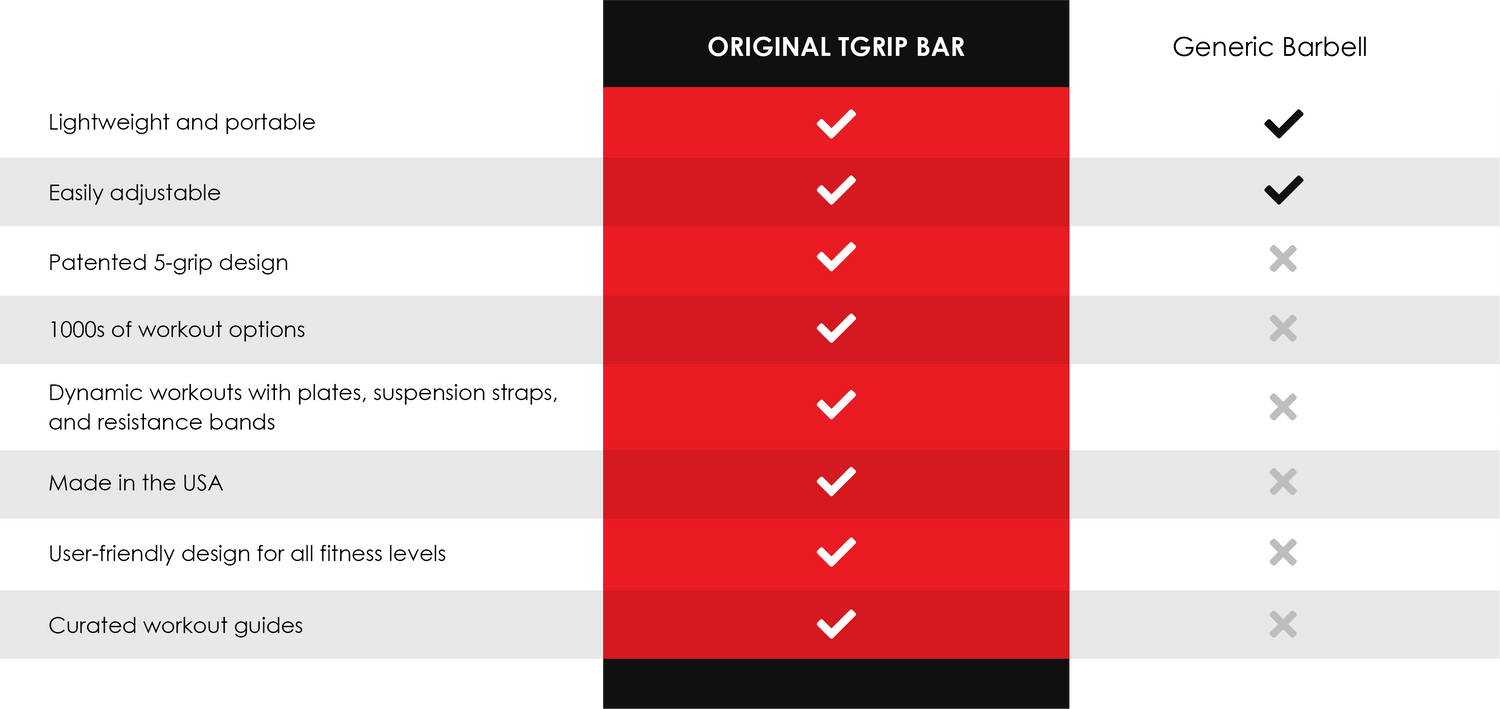 3 Father's day packages to help dad lose the dad bod
Original TGrip Bar

Includes:

Original TGrip Bar
1pr Snug as a Bug Spring Collars
4 Week Nutrition Journal
4 Week Training Journal

$299

ADD TO CART

TGrip MAXX Kit

Includes:

TGrip MAXX Bar
TGrip Gym Bag
TGrip Travel Bag
2 of each 25lb, 18lb, 12lb, and 7lb Bands
2 Band/Suspension Anchors
2 TGrip Bar Strap Attachments
D-Ring Strap
2 Functional Handles
3 Rack/Door Hinge Anchor Straps

$499

ADD TO CART

TGrip MAXX Power Kit

Includes:

TGrip MAXX Bar
TGrip Gym Bag
2 TGrip Travel Bags
2 of each 25lb, 18lb, 12lb, and 7lb Bands
2 Band/Suspension Anchors
2 TGrip Bar Strap Attachments
D-Ring Strap
2 Functional Handles
2 Rack/Door Hinge Anchor Straps
1 pair of Snug as a Bug Spring Collars
4 Week Nutrition Journal
4 Week Training Journal
2 6' Suspension Straps
4 Carabiners

$899

ADD TO CART
0% monthly payment with Affirm. Available at a checkout